Usefulness of High Pressure Water Jetting Services
We all know the importance of having Grease Traps in Singapore in our eating establishments, but did you know that they go hand-in-hand with other components, with one being an extremely important tool? The High Pressure Water Jetting service.
By providing intense, High Pressure Water Jetting Services using only specially trained personnel, Asia Pacz sets high service standards for flushing and cleaning waste deposits, incrustations in pipelines, and many more to ensure any form of debris is removed. Waste drainage maintenance like this is crucial for a smooth water flow through the pipes. While Grease Traps Services in Singapore help trap unwanted debris from entering the pipes, the High Pressure Hydro Jetting Services further clean the pipelines to further ensure optimal cleanliness.
Grease traps should be pumped yearly, quarterly or even monthly, depending on dependability and frequency of use. Let us look into recent issues that have plagued Singapore in relation to the improper maintenance of pipelines.
Pipes bursting a serious problem in Singapore
Despite Singapore's relatively good reputation as a city that's well-managed and kept in tiptop condition, pipes bursting in Singapore aren't something uncommon or unheard of. In fact, it has happened in the heartlands and in the midst of busy daily activities, halting everyday life and being an overall inconvenience to everyone.
In two separate incidents, pipe bursts at JEM shopping mall in Jurong were reported in the news. In 2013, the ceiling of the wall collapsed due to burst water pipes.
Photo credits: The Straits Times
Three people were injured in the incident, and later site inspections by Building and Construction Authority (BCA) engineers revealed that the cause of the unfortunate ceiling malfunction was due to a leak in the water pipe – which led to the weight of the water that escaped weighing down on the false ceiling.
Recently, yet another pipe bursting incident happened at JEM shopping mall. This time, it was in a crowded restaurant, affecting many patrons and leaving an unpleasant memory. One particular patron was directly affected, with black-coloured water drenching a pregnant diner and her husband when a water pipe in the ceiling burst. The smell of the tainted water was too much to bear, and many customers left the premise without even paying for their meal.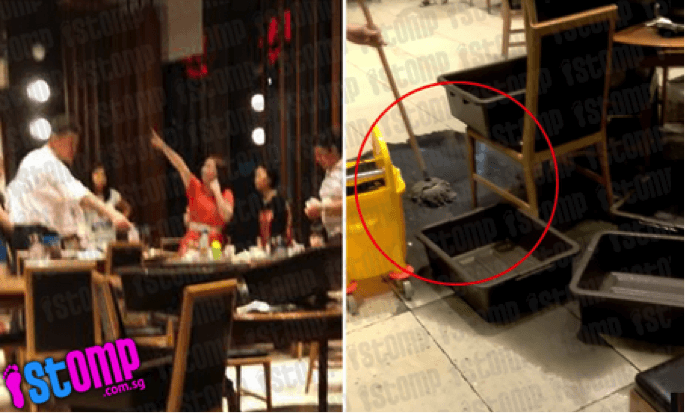 Photo credits: stomp.com.sg
The above scenarios are very good examples of a reality that could be more frequent if pipelines are not properly maintained and cleaned. In the second incident, the restaurant was also adversely affected due to a high expectancy for cleanliness in local eating establishments. It might have been the first time a pipe burst in an eatery, but it's enough to put off even the most loyal patrons for life and also tarnish the reputation of the establishment.
Grease traps go hand-in-hand with High Pressure Hydro Jetting Services
While grease traps work the best they can, lack of or improper Grease Trap Maintenance in Singapore can allow grease to move out into the grease sewage system where it can harden. Grease that's allowed to build up in the lines restricts flows, like a clogged artery, and can cause serious problems. Eating establishments also face severe fines for not complying with the Sewerage and Drainage Act (SDA) regulations. Therefore, proper Grease Trap maintenance in Singapore is imperative to prevent clogging, which is where High Pressure Hydro Jetting Services come into play. Here are some of its strengths:
Removes debris completely:

Our high-pressure water jets ensure your drain and sewage system will be as good as new with ease, no matter the diameter and length. Enjoy a smooth-running sewage system with our qualified expertise.

Fast cleaning speed:

Water jet services work at an incredibly high and precise speed, which means the job gets done quicker and you are able to resume operations as fast as possible.

Cleans a wide variety:

Is able to clean everything from grease traps, drains, floor traps, sewage drains, grease interceptors and more.
24 hours emergency response service: Reliability means having your needs attended to anytime, anywhere. Asia Pacz promises to be your one-stop solution whenever you need us.